Honeywell T6360 (B1028) is a simple dial mechancial (wired) thermostat (analogue). If replacing an old, worn out T6360, the process is as easy as taking the old one off the wall, turning the power off, unwiring it, and then fitting / wiring the new model in the exact same manner at which the old one was installed. So its basically a direct swap / replacement. This model can also work as a direct replacement for the T6360B1002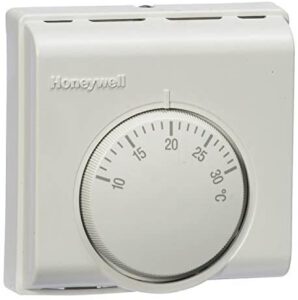 The T6360 can be used with many programmers, such as the Honeywell ST7100, and many other makes and models. Works with most 2 or 3 wired systems. A few include: Baxi combi boilers, Vokera and Vaquerra combi boilers etc. Compatible with many fuel systems, including oil and gas.
Overall, the Honeywell T6360B1028 is a good thermostat that's reliable, pretty accurate and fairly cheap to buy. This model is widely available to purchase either new or used. But, given the low price of this item brand new, it would be better to go with a new unit rather than save a few pounds buying used and get no product warranty.