Keeping up with the latest technology, and not to be confused with the RT300RF, the Salus RT310i is another one in a now very long line of thermostats that can be controlled by a Smartphone. With the RT310i, you can run your heating system remotely by switching it on or off from the dedicated App on your Android or Apple IOS Smartphone device from anywhere as and when you need to. It also allows you to easily control and adjust the heating temperature locally on the thermostat.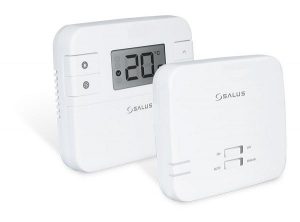 The RT310i is a well-made, advanced thermostat with an LCD screen and an almost technophobe proof interface. The thermostat connects to a receiver and enables the user to control the heating level. These units hook up together wirelessly through an RF (Radio Frequency) signal @ 868 MHz. The improved Gateway helps connect the thermostat to the Internet, and helps manage heating from the App installed on your Smartphone. Using the App on your Smartphone allows you to control and program many features remotely, making things much more convenient for those who love using smart technology.
SALUS RT310i Quick Specification / Features
Remote control via the RT310i App on your Smartphone or PC. Heating and cooling capable, it's compatible with Android or iOS (Apple Mac) devices. More features include manual key function. Geo-location capabilities, Holiday Mode, Sleep Mode, Frost Mode, Internet ready, Manual override, Radio Frequency test function (Pre-paired), C/W RT310I Internet Gateway, Switching Volt free output and 230V, 16 AMP relay switching, 868 MHz, blue LCD backlight. The unit runs on 2 AA batteries. The SALUS RT310i also comes with a Five-year warranty.
Problems / Potential Issues
For some users the SALUS RT310i thermostat may have weak software and firmware. The dedicated RT310i App has been known on occasion to not function properly. In some cases, it may fail to make the connection. There may be pairing issues between the programmer and the Internet receiver. Disconnects can be common if you're unfortunate enough to be plagued by this problem. There are also some complaints relating to poor technical assistance from the manufacturer. But overall it can potentially be a fairly solid system, as there are some people who love using it and have never had any problems at all.
The SALUS RT310i is a suitable choice if you are searching for a cost effective room thermostat that is very easy to operate. You can easily install the programmer on the wall or counter in your home and manage the heating setting manually on the device or remotely from your Smartphone. The SALUS RT310i thermostat, while not without some bad reviews, is a fairy efficient unit. Well worth a look if you're looking for a cheap way to achieve a high level of automation.