Like the Timeguard TRTD7N, the Horstmann Economy 7 Quartz has been made specifically for use within the Economy 7 time range. That is, of course, overnight when the electricity is running at a cheaper rate / tariff. Being analogue and operated by just two dials, many people who prefer an extremely easy to use timer will welcome its simple mechanical design.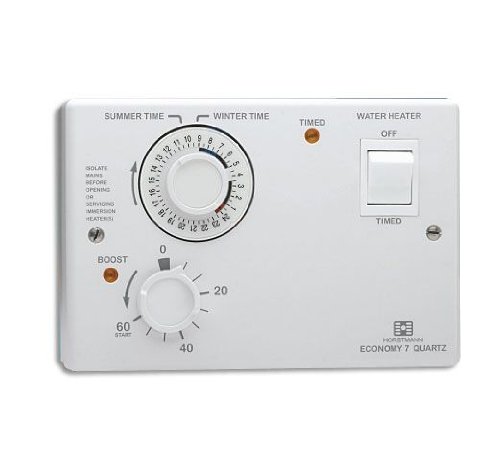 Pictured: The Horstmann Economy 7 Quartz

However, while it does offer a simple-to-use interface, when it comes to versatility, it's quite lacking when compared to the Timeguard TRTD7N. The freedom to program the timer is as required quite limited, and the minimum amount of time of any on /off period is 4 and a half hours (max time is seven hours). The off-peak time zones are pre-set in this unit (between 11:30pm – 9:00am), but they can be changed if the need arises.
This involves manual adjustment of the dial (cam), which is accessed from the rear of the unit. Between the pre-set times, which cover the whole night, does give a lot of room for most peoples needs, so manual adjustment of the cam shouldn't be needed in most cases.
It's the lack of versatility that has some people complaining, as some users expected there to be a wider range of options for manual settings.
There is, however, a Boost option on the Quartz. This particular model has maximum boost of 1 hour but there is a model that has a 2-hour boost. The boost will be used in day time hours, where the electricity rate will be within the on-peak hours (more expensive than Economy 7 times), so keep this in mind.
The internal battery has a six-day reserve should the mains power be interrupted. The Horstmann E7 Quartz can cater for single, double and twin immersion heaters (3kW max). Overall it's a good mechanical timer for basic Economy 7 usage.