The Horstmann Electronic 7 is a direct replacement for the older mechanical model made for Economy 7, the Horstmann Economy 7 Quartz (newer example here). Easy to fit, cost effective and fairly simple to use, It's an excellent upgrade from the old Horstmann dial quartz unit into the digital world of immersion timers. Ultimately both models work the same. But the Electronic 7 is much more versatile, and more precise.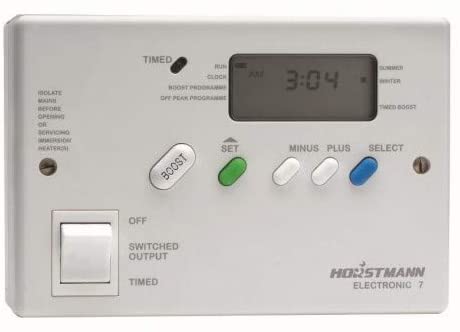 As well having pre-set timing options specifically programmed for off-peak Economy 7 usage, this model can be tailored to whatever timing requirements the user has (up to 3 on / off time settings per day). This makes this unit very economic and versatile, with sure potential to save the user some money on energy costs due to how easy the timings can be laser targeted to suit a particular persons needs (Some models have a minimum "on" setting, such as 4.5 hours). This model can also be set to cover the Economy 10 off-peak times.
Like the older model, Boost mode is also a feature on the Electronic 7, providing the option for hot water within daytime hours. There's also a timed boost option, which can be useful for people who use the boost regularly (daily) and have either a twin or dual immersion heater.
Other features include an easy to read digital screen (lights up green), automatic seasonal time adjustment and a built-in back up battery for keeping settings / timings intact in the event of power loss. This internal battery has an impressive two-year lifespan and is not rechargeable. Power outages usually do not last long, so two years to play with is a good amount of time to protect against all the little power outages that may occur throughout the unit's lifetime.
This unit also has a 2-year guarantee, but do be aware: Horstmann state that this guarantee starts from the date of manufacture, which can be found on the on device. However, if the reseller has had the product sitting on a shelf for six months, by the time the buyers gets the product and installs it, that guarantee has been shortened to one and a half years. Just something to be aware of. Overall the Electronic 7 is a very good timer, well worth the price.