Hive
Hive 851816 Smart Controller
Take your heating to the next level with the Hive 851816 Smart Thermostat. This model works with conventional / traditional boilers and offers great automation. whether you need the heating or hot water to come on before you get home, or you've left it on by mistake [it can turn itself off], the Hive 851816 can be controlled remotely with the App via a Smartphone, tablet, laptop or desktop computer, so there's not much it can't do.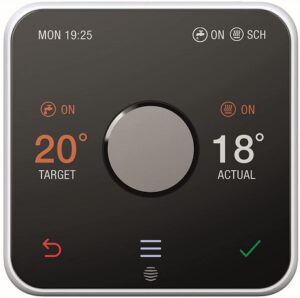 Some models, such as the UK7000754, do not come with a HUB, and need a separate water tank to operate. The 851816 does come with a HUB and works with conventional boilers, which are two big advantages. A good versatile, compatible Smart thermostat. It's also controllable by voice command and works with Amazon Alexa, Google Assistant [Google Home] and Siri. Keeping a close eye on your system, it can find potential problems and help save money once tailored accurately to a users needs and habits.
Like practically all the Hive models, this unit has great build quality and a clear easy to read display. Some features include:
As many as six on / off periods per 24 hours, extra long boost options [as much as 6 hours] for both heating and hot water, pipe frost freeze protection, holiday settings, manual controls, Geolocation [notifications to your device] and a high level of remote control and automation.
Regarding easy installation in the UK
While many people install Hive Active thermostats with minimal fuss, potential problems can ocassionally arise in very old / troublesome systems, for users who are not tech savvy or have a limited knowledge of heating systems and would rather leave the install to someone who knows exactly what they are doing.
The good news is, when purchasing certain Hive models the buyer can now also buy the installation to go with it, meaning it will be fitted / installed by a professional engineer and be up and running in no time.
The cost is quite reasonable considering the high level of service and hassle free Hive installation that many users have already received. Well worth the price. Feedback is excellent. This fitting service can also be purchased on it's own, and its not exclusive to just Hive models. Click here for more information.