The Danfoss TP5000Si can be considered among the best thermostats for combi boilers and underfloor heating. While pre-set modes can be a bit limiting, they get the job done and you will not feel as though the heating is inadequate. First things first, the TP5000Si is not a smart thermostat, so admittedly, there are some very convenient features that it lacks such as geo-location support. But homeowners have done without "Smart Technology" for decades, so it isn't essential by any means.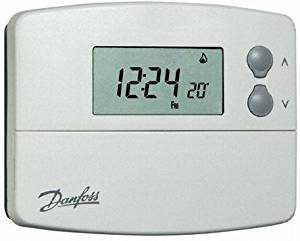 Since it's wired, in some cases it can be a bit of a hassle to install. However, in spite of this, it has a host of great features to offer. It has many tools for dealing with room temperature, the most important being the pre-set modes. They operate on a 5/2-day or 24-hour basis, so you can choose which one suits you better. This thermostat also offers a range of 5-30 °C, which should be suitable for most people.
If the current temperature in the room is not to your liking, you can also use the Room Temperature Override function to reset the thermostat and keep it at the temperature of your choosing. Danfoss has also designed this thermostat with Frost Protection in mind. The TP5000Si also possesses a large LCD display with a 24-hour clock as well as other important information. Of course, one must also acknowledge that this thermostat is extremely user-friendly. You will not struggle as you figure out how to use it and adjusting it will be very quick.
Danfoss TP5000Si Quick Specifications / Dimensions
Height: 88 mm
Width: 110 mm
Depth: 28 mm
Weight: 0.21 kg
Zoning Levels: One
Wired
Digital display
Pre-programmed modes
Danfoss TP5000Si Reported Issues / Problems
While the pre-set modes are excellent to keep yourself warm, they are prone to glitching. This is to say that there have been incidents where the thermostat did not switch off after achieving the optimal temperature. On the other hand, it might not switch on at all, behaving as though it is already at the optimal temperature. The LCD screen has also caused some inconvenience, but in this case, the problem is entirely tied to the batteries. Thus, changing the batteries generally tends to resolve the matter immediately.
Danfoss TP5000RF
Another great thermostat to consider, which is a close relation of the Si, is the Danfoss TP5000RF. It distinguishes itself from the Si model based on the fact that it is wireless. It also possesses a host of different override functions that do not impact the thermostat's programming. It also operates on the 5/2-day or 24-hour scheduling. The TP5000RF also features an RF frequency of 433.92 MHz and an RF range of 30 metres. It also has a built-in sensor and service interval included.
Whether you purchase the Si or the RF model, you will be acquiring an excellent thermostat for your home. While they lack smart features and customisable modes, they are still extremely efficient and get the job done. Reviews from official outlets have not covered either in as much detail as some people would like to see, but customer reviews generally trend towards the positive. Thus, if you prioritise simplicity and a user-friendly interface, you should at least consider taking a look at either of these two thermostats.