The Timeguard TRTD7N is quite a good timeswitch. Cheaply priced compared to some, and made specifically for taking advantage of the Economy 7 off-peak cheaper night time electricity costs, the TRTD7N offers a convenient range of built-in time periods to cover the Economy 7 tariff times in the UK. There's also the option for the user to manually program there own timer options.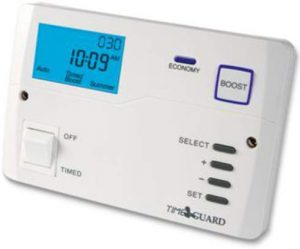 A digital screen and minimal buttons make this an easy unit to operate. Three separate on / off timer settings are available each day / night cycle. The Off-peak on-screen indicator is also a handy little feature on this unit for those unsure of the times. Other features include auto season time change, works with many types of immersion heaters (max 3kW), internal backup battery and boost mode.
The boost mode (manual + programmed available) offers a choice of three durations: Either half and hour, 60 minutes or 2 hours. The internal battery has a reserve life of two years. It is a rechargeable battery but is not replaceable. So if / when this battery dies and won't hold a charge anymore, it won't preserve the timer settings if there's disruption to the dwellings electrical supply and the unit goes off (such as a powercut).
This may force some people to have to replace with a new timeswitch. Either the same model or something different. However, there is a 3 year guarantee with the TRTD7N, so if something does go wrong within that time, Timeguard will more than likely swap the faulty unit with a new one for free, providing there isn't an easy fix.
Works as a good replacement for the older Horstmann models that are also Economy 7. Timeguard also state that its easily replaceable with many of the E7 Sangamo models as well. It's also a well-made unit which has an IP30 rating and has been built to be able to withstand a knock or fall.