Baxi
Baxi Duo Tec 28 Combi Boiler Thermostat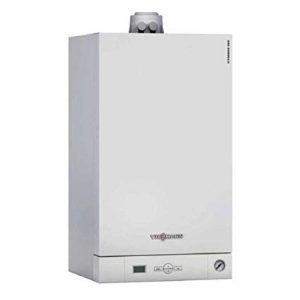 Baxi designed the Duo Tec line of boilers to provide efficient and effective heating throughout your home. The primary goal is to provide warmth and hot water through a single channel (or boiler). Seeing as this combi boiler does not require any cylinders or tanks, it's especially loved by homeowners who do not have spacious dwellings.
Chief among its features is the extremely user-friendly approach that Baxi has taken. Tracking and controlling central heating is fairly easy thanks to the simplicity of the controls. On top of this, the 28 HE combi boiler is capable of monitoring itself thanks to the inclusion of THINK combustion management. It pays close attention to the central heating and makes adjustments as necessary to suit your needs.
There is also a frost thermostat built into the boiler. This clever feature allows the boiler to detect whether the temperature has fallen below 5°C. If it has fallen that low, the boiler will provide heat to compensate until the natural temperature improves.
Looking for the
Baxi RF Single Channel 24 Hour Room Thermostat 5117391?
Particularly impressive is that this boiler ships with the twin flue system. This is a type of piping, where one pipe directs air to the boiler for combustion, while the other pipe safely filters out the flue gases. Additionally, Baxi's 28 HE combi boiler was designed with smart control compatibility in mind, so it is possible to control the boiler even if you are not physically present.
Baxi Duo Tec 28 Combi Boiler Specifications
Height: 780 mm
Width: 450 mm
Depth: 345 mm
Output: 28 kW
Noise Level: 53 decibels (dB)
Flow Rate: 11.5 L/min
Baxi Duo Tec 28 Common Complaints
While certainly looking impressive on paper, like many other boiler makes and models, the 28 HE is not without fault. For one, Baxi can be considered a "cheap" brand, and as a result, some models of its boilers are known to be problematic with either breaking down unexpectedly or being defective/faulty. This is especially frustrating because Baxi's customer support is sometimes reported by customers as lacking. So if their track record is anything to go by, you probably won't get much help if your boiler starts causing you problems.
Compatible Controllers
When purchasing a combi boiler, you also need to look at which thermostats are compatible with it. This section will discuss a few of the ones you should consider that work well with this unit.
Salus RT500 – Compared to some other options, this one is very reliable and affordable (one of the cheapest you will find). It also has 7-day capability and frost protection. On the downside, it is not a smart thermostat, making it a tad outdated in some respects.
Horstmann C-Stat 17M – This is a very popular option with 7-day capability, holiday programme, voltage-free contacts, and tamper-proof security code.
Honeywell DT90E1012 – It is attractive because it is simple to use and install. It is also energy-efficient with a 4-year battery life and features voltage-free connections. Baxi controllers are also available, but they are expensive and not widely available. Aside from that, they are prone to breaking down, as is often the case with Baxi products.
Conclusion
The Baxi Duo Tec 28 HE Combi Boiler is capable of providing proper warmth and central heating, but you should think carefully about purchasing one as it can be faulty, and as reported by consumers, Baxi sometimes doesn't provide the necessary customer support to make it worthwhile. Overall not a bad boiler, and you could do a lot worse, but it's not among the best or most reliable either.