The Honeywell T4H (110A1021) and T4R (Y4H910RF4003) both offer a great heating solution for residential properties that have a combi boiler (recommended but not essential). Reviews are widely positive across the board. Of course, while being similar in many respects, even in appearance, they are two entirely different models, and as a result they have some slightly different features.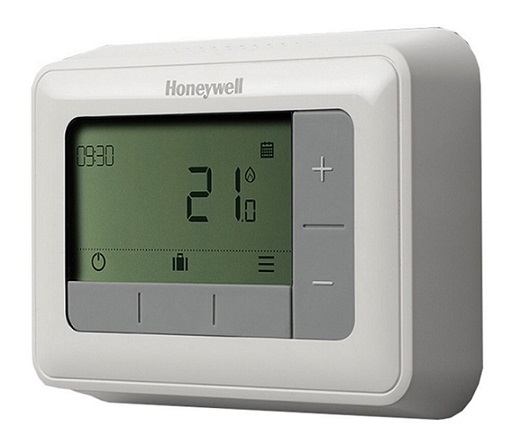 There is some confusion with this, as some people are not sure about the whole T4H / T4R model codes and have ended up buying the T4H (110A1021) thinking it was the wireless model. When in fact its the T4R that is the wireless model. The other big difference between the two is the price. The wired T4H comes in at around half the price of the T4R (wireless).
The T4R is available to buy online
Honeywell T4R (Y4H910RF4003) Specification / Features
The thermostat and receiver can be as far as 98 feet apart and still be able to communicate. Note: This pairing is automatic.
Very easy to set-up. There is an easy 4 part process from start to finish: Get it wired up, turn everything on, try-out the features to check all is well, and lastly tailor the settings to your requirements.
One day schedules or 7 day programming with 7 day – 5/2 (this is pre-set but can be changed).
Automatic daylight savings (when the cocks change for summer / winter).
Extremely easy-to-use interface with fool-proof big button entry to the root settings.
OpenTherm Compatible (Reciever box only)
Dimensions: 13cm x 3cm x 9.5 cm
Takes 2 AA Batteries
Looking for a general installation information / user guide for the T4R – Take a look at the video below. Looking for the wiring diagram or troubleshooting guide? You can find that here.
Video: Installation information / user guide for the T4R
What else does the T4R have. There's also the option of four on and off cycles per 24 hours, frost protection, manual override and away mode. As far as reviews go, as mentioned above they are widely positive, and most users reprt this model as being very easy to live with and works well. The warranty / guarantee length for this product is, I believe, 12 months from the date of purchase.